I don't know about you, but for years the thought of a website redesign made A Nightmare on Elm Street feel tame. There is probably no marketing tactic where I have spent wasted more money and experienced more frustration than on website redesign projects.
What's worse, by the time most people are (finally) done with a website redesign, the messaging is already old and out of alignment. As the sales and marketing efforts and other business functions like recruiting evolve, the website falls further and further out of alignment with everything. But, you stick with a website you don't love because the cost and frustration associated with making changes is too high.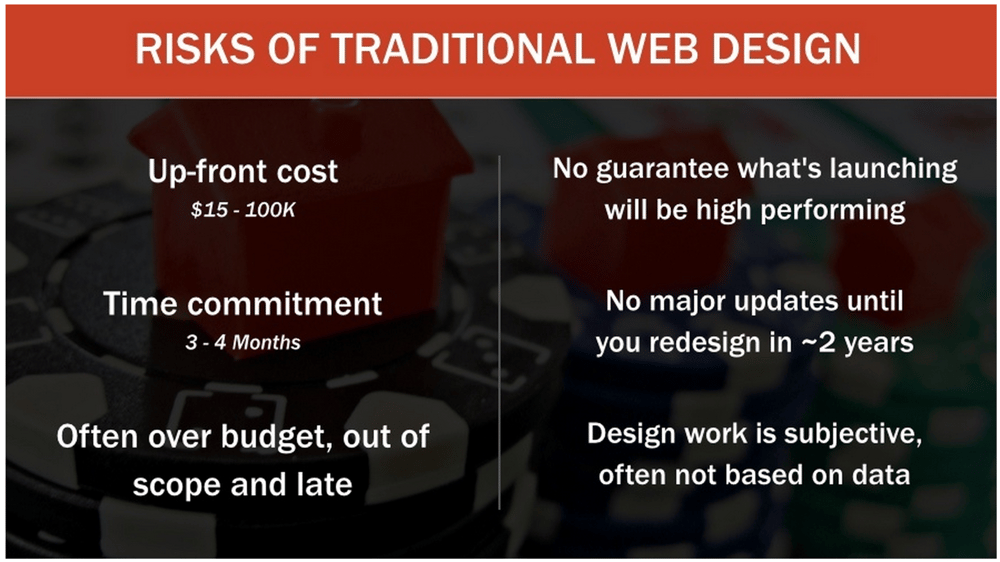 For mid-sized B2B sales organizations, the traditional approach to web development is broken. The good news is that it doesn't need to be that way. There's a new approach to web development that can eliminate these frustrations and enable selling organizations to utilize their website to drive faster sales.
Luke Summerfield of HubSpot calls this approach growth driven web design. As Summerfield points out, traditional web design is both costly and not particularly timely.
Growth driven web design is built upon an iterative process whereby you continuously adjust, refine and evolve your site based upon:
Actual data to support what's working and what's not working.
Enhancing conversion paths.
The evolution of your messaging and overall go-to-market approach.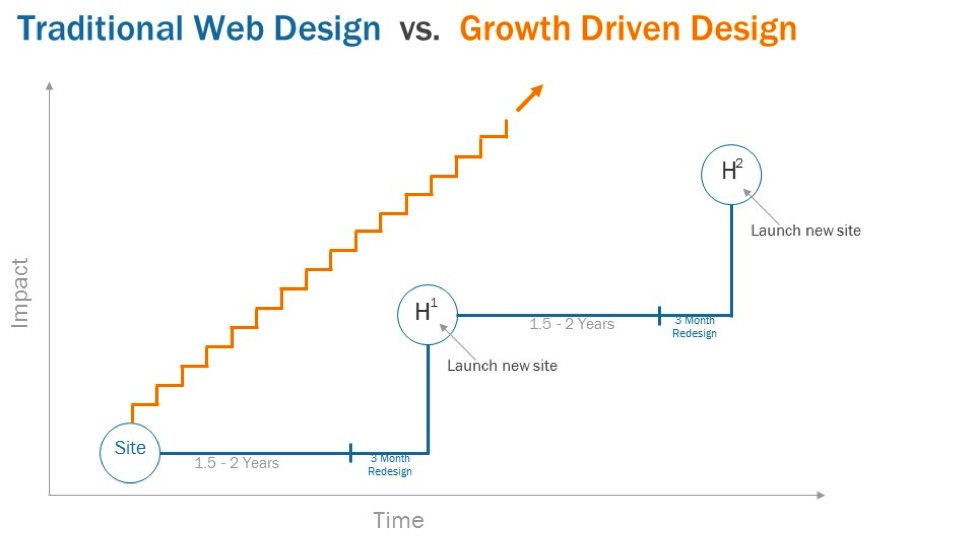 Growth driven design comes straight from the Agile planning playbook. Rather than planning to do everything at one time, you focus on iterations, or sprints, that are shorter in term, less risky and less costly.
Because you are able to test assumptions and utilize data to drive each iteration, you make much more progress; faster than you would with traditional approaches. For example, you may start off with a focus on improving conversion paths. As you complete a couple of iterations and you gain confidence, maybe you move to the user experience or personalization.
Example of a rollout:

The flexibility built into this approach ensures that the most important arrow in your sales and marketing quiver is always in alignment with the larger strategy and approach.
Some Tips When Beginning the Transition to Growth Driven Design
About two years ago, I was completely frustrated with how difficult web development had become and was nearly paralyzed by our inability to get our own website or the sites of our clients in order. I decided it was time to try a completely different approach.
At the time, I didn't call it growth driven design. In hindsight, I see that's precisely what we were doing. In the last two years, we've overhauled our website and five client sites. Keep in mind that we are not a web development shop, but the central importance of the web to lead generation and sales development put us in a position where we had to lead clients to make important changes.
There are three key results that have emerged from these efforts:
The process has been minimally frustrating. Sure, as the initial new site is about to go live there's a swarm of issues that need to be addressed. But, all things considered, the issues have been minimal.
The time to a new website has been between 45 and 75 days.
In every instance, the new site bore immediate results in the form of greater traffic and leads.
During that time, we've learned some important lessons about aligning your website (and it's development) effectively.
Begin With the Minimum Redesign
The term "minimal viable product" is one used regularly in technology. What it means is that rather than trying to create a new product (or upgrade) that addresses everything, focus on the minimal improvement that will get a result.
The same approach is effective in redesigning your website. With most of the clients we work with, there are one or two acute issues that need to be addressed:
The look and feel of the site is old or ineffective (or is not mobile compliant).
The site is not built to convert visitors to leads (which plugs closely into the design issue).
So our focus is only to achieve that in the first phase. We do not attempt to re-content the site or to update what's on every page (though we do typically create a few new pages and eliminate some old ones).
The result here is that we get a new site that gives our client a stronger position and enhances lead generation.
Build Other Changes Into a Phased Approach
With the minimum viable website laid out, every other item that someone wants to address or change goes onto a post-execution wish list. Based upon that list, we create phases to address. Here's a common process we take with clients:
Phase 1: Minimum viable website focused on design and conversion
Phase 2: Update messaging of non-critical pages
Phase 3: Personalization
Don't Address More Than One Stakeholder At A Time
The biggest thing that bogs down web development projects is that everyone in the company wants to have a say in what the site does and how it works. Human resources is worried about how the site will be used for recruiting, account management wants to use it to enhance efficiencies, and so on.
With this approach, we make sure that we are only addressing one stakeholder at a time. We lead this by explaining that, at worst, the changes we are making represent no change and that we'll be able to address their needs in a predictable and low stress manner.
It's Better To Make Lots of Little Changes Than A Few Big Ones
An unexpected benefit of this approach is that it's very SEO friendly. Search engines like to see websites that are regularly kept fresh and up-to-date. The nature of such an iterative approach plays nicely with search algorithms.
Additionally, because you're never focusing on something huge you don't face big roadblocks or barriers to progress. It's easier to tie the investment you're making into your site into results.
Don't Get Hung Up On Small Things
Lastly, don't sweat the small stuff. If you can't address an issue in this phase or iteration, you'll be implementing the next iteration quickly and can address it then.
Be Sure You're Using a Content Management System That Makes Changing Anything Simple
Another barrier to keeping your website relevant is the difficulty of working with a particular content management system (CMS) or web structure. You'll want to make sure you build your site on a platform that lets you adjust quickly, easily and seamlessly. We use HubSpot for this.
Growth Driven Design In Action
I feel like I'm about to show you childhood pictures now and I have to admit that I'm a little embarrassed.
Eighteen months ago, this is what our site looked like: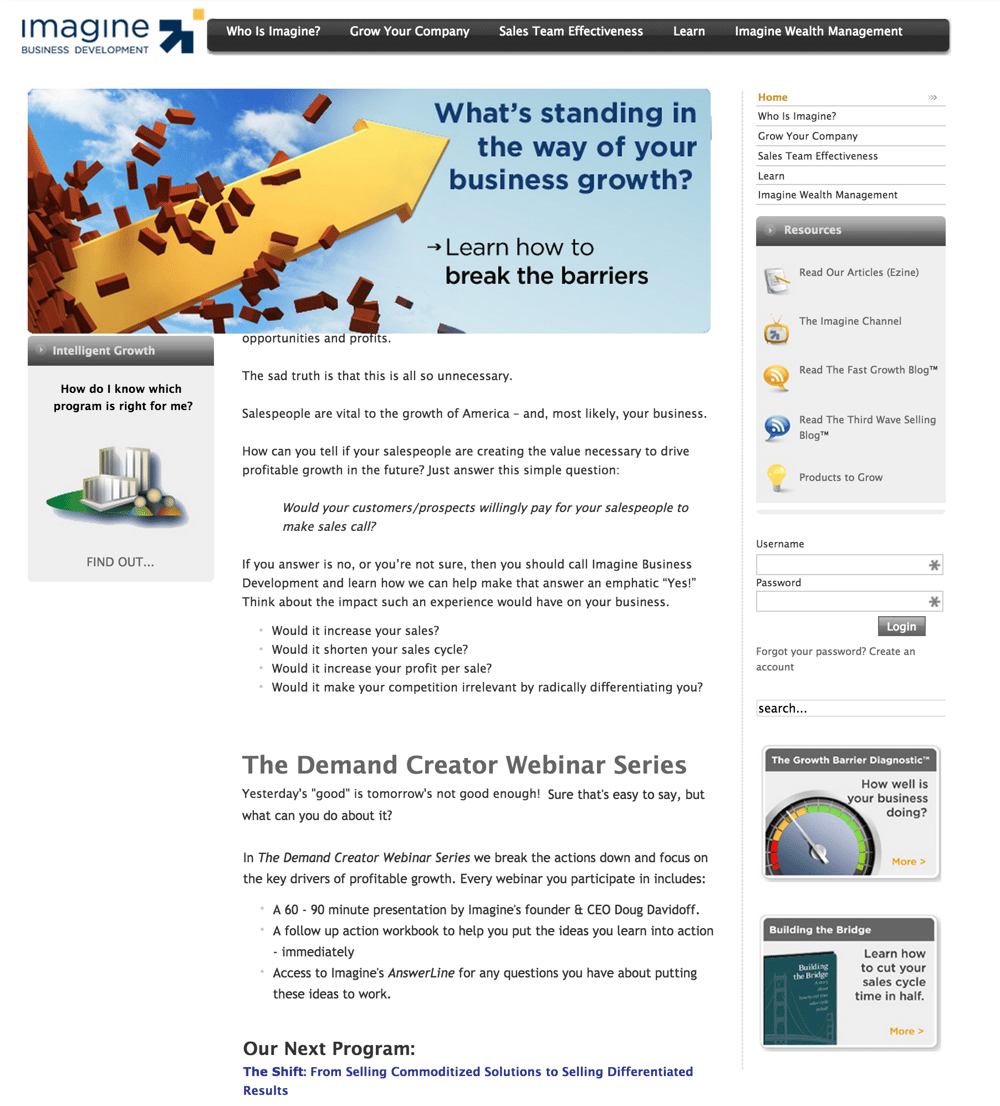 As I look at it today, I have to admit I'm a bit surprised that we were actually able to get clients with it. I remember getting phone calls from prospects who said that they had looked at our website and I remember thinking, "Oh no! Please tell me you didn't look at it closely."
The site was poorly designed, was difficult to navigate and had no natural conversion paths built in. Everything we did to create conversions was a hack.
Frankly, I had hated my site for a least a couple of years and had even started two initiatives to redesign the site. One went so badly that I ended up spending more than $10,000 and decided to just kill the project.
That's when I had the epiphany that I referred to earlier. Rather than adjust everything, we decided that we needed a site that:
Gave a more modern look.
Was easier to navigate.
Highlighted our content better.
Was more naturally built for conversion.
So in September 2013, we launched this site:
Not perfect, but a noticeable improvement. Immediately, we saw increased traffic and magnified lead generation.
Within a few months, we were already feeling some growing pains associated with the site. We learned that visitors we're confused (you can't see the whole site in this picture). We gave them so many choices they didn't know what to do.
Additionally, while the design was an improvement is was still too busy.
In July 2014, we launched this: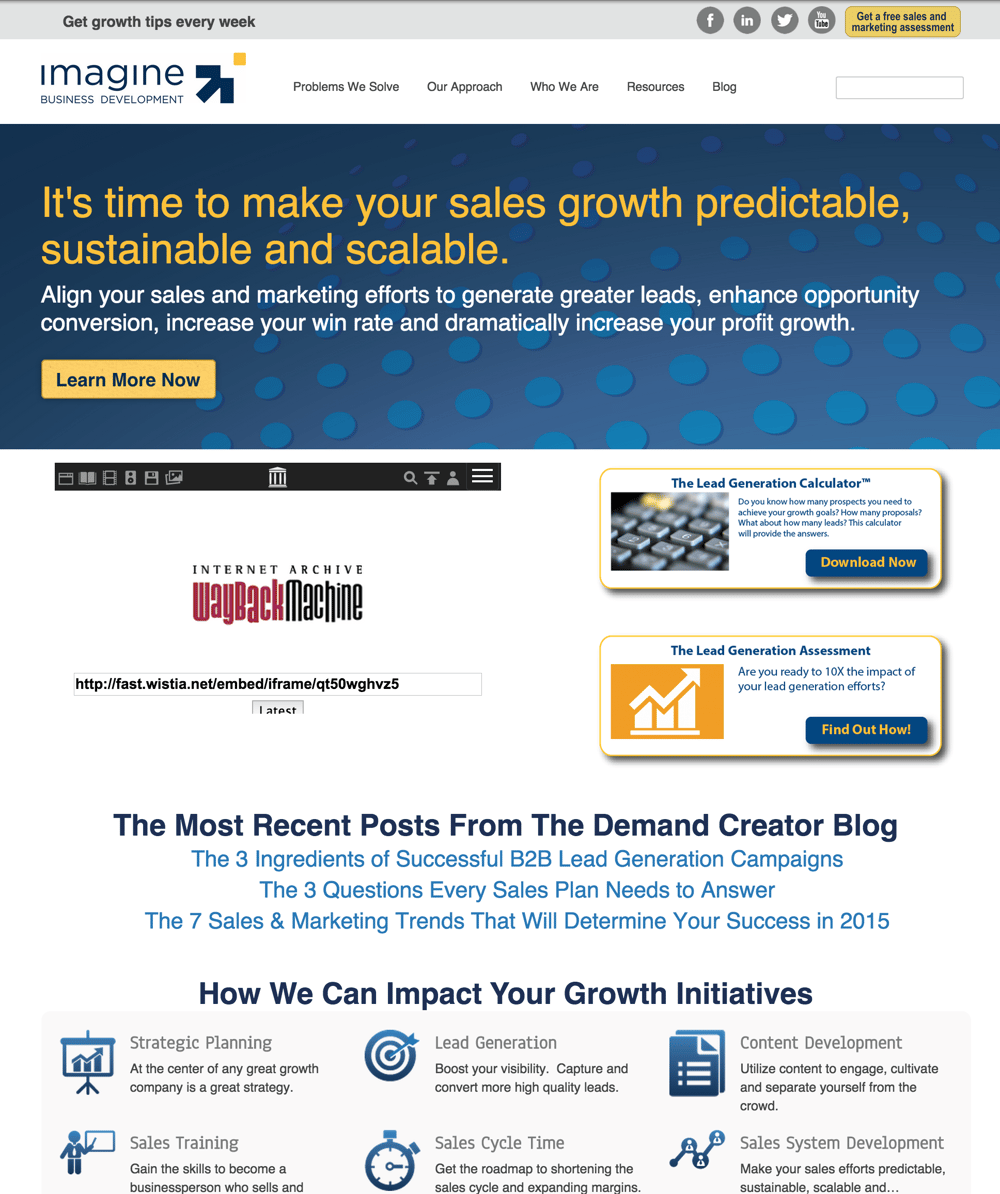 Here again we saw immediate improvement in traffic and conversion. In the process of the redesign and in our efforts to simplify everything, we realized that there were several areas we needed to get clarity on before we changed the focus of the site.
Because we knew that we were going to be regularly updating the site, we didn't let this lack of clarity stop us from improving what we had.
As we gained the clarity and had more data to back our choice, we launched this in March 2015: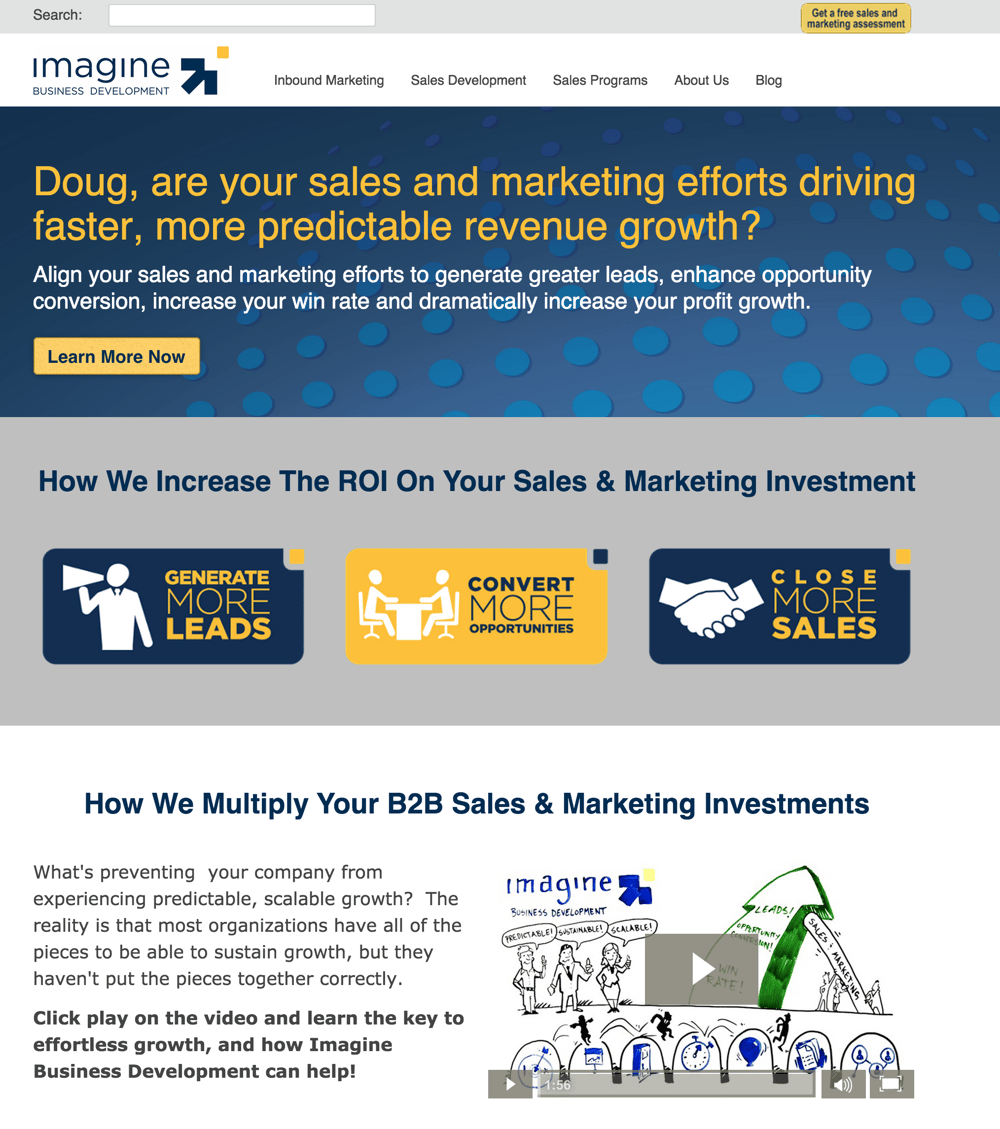 In the 18 months represented here, our web traffic has more than tripled and our lead conversion is up more than 800%.
Since March, we've made three material updates to aspects of the site (having nothing to do with design itself), each of which brought improved results.
Today when someone says they've been to my website, I smile. If they haven't, I do everything I can do get them there. The bottom line is that over the last two years, I've spent less than half of one website design project and experienced results that are off the chart.
You simply cannot ignore your website today. By using a growth driven design process, you'll quickly see the frustrations you have with your website disappear and you'll gain the ability to focus on what you always wanted to…growing sales and profits.[/vc_column_text][vc_column_text]Website redesign — two words that often strike fear in the hearts of business owners and marketing teams everywhere.
<< Temporarily borrowed from IMPACT >>
Inevitably, these words mean three months focused on site redesign with swarms of lead-up work and planning, content audits, focus group card-sort exercises for site navigation, wireframing, usability testing, frustrations over budget and scope, and even some political maneuvers about who gets what real estate on the site.
Marketing—the reason why the site exists—is forced to shift focus away from normal activities to deal with these all-absorbing design issues in return for an educated guess, at best, as to how the redesign efforts will improve business outcomes after the site is launched.
But here's the thing: Marketing can't afford to take three months off to focus on site redesign instead of the business goals of the organization.
So how do you enable marketing to accomplish both with better results?
Enter growth-driven design (GDD), a fusion or marriage of sorts between site redesign and marketing, where the two goals become one.
Defining Growth-Driven Design (GDD)
Growth-driven design succeeds in minimizing the risks of traditional web design through a systematic approach that shortens the time to launch by focusing on real impact, and continuous learning and improvement.
Continuous learning and improvement are particularly important since GDD is an iterative, ongoing process that contrasts with a traditional website redesign, which tends to be an all-at-once event. Rather than planning to do everything at one time, GDD focuses on iterations, or "sprints," for shorter timeframes (which are less risky and less costly).
Rather than undertaking a site redesign every two to three years with stale content that no longer aligns with the organization's priorities, GDD succeeds by making informed performance improvements to your site based on testing, continuous learning, and research that's derived from visitor behaviors on your site.
Instead of monopolizing your marketing team for three months, GDD istightly integrated with marketing and sales.
Site visitor learnings are used to inform and improve the strategies and tactics of marketing and sales and vice versa.
In doing so, GDD offers a more adaptive model where businesses can change their marketing plans-of-action based on the conditions and obstacles they encounter.
Test. Learn. Adapt: Growth-Driven Design is a smarter method for doing things in less time and in a more validated way than traditional website redesign. – Tom DiScipio [Tweet This]
To drive home the comparison, Hubspot's Luke Summerfield uses the following illustrations to outline the heightened cost and time often associated with a traditional website redesign. Check out the blue line for traditional website redesign – it may look all-too-familiar:
"Traditional #WebDesign is broken. Why spend 3+ months building a site who's results aren't proven. #GrowthDrivenDesign solves this." – Luke Summerfield [Tweet this!]
How Does Growth-Driven Design Work?
You can think of GDD as having two phases: The strategy and launch pad phase (lasting one month) and the iterative development and continuous improvement phase (which takes place over the next eleven months).
Phase One: Strategy and Launch Pad
Strategy & Buyer Personas
As with traditional web design, the GDD process begins with strategy andgoal formation so you know what you're trying to accomplish, and buyer personas so we know whom you're trying to reach, what they're like, and what they care about.
Website Audit
With those in hand, you'll then do quantitative research through a website and analytics audit which will explore how users arrive at your site, interact with it, and why they're dropping off or bouncing.
In addition to gathering user feedback about why they visit your site and their pain points, this research will help you assess what opportunities there are to improve your user experience on the new site. It will also help you make fundamental assumptions about:
Why users come to your site
The value proposition they receive
How they're accessing it (i.e. from their desk at work or from a mobile device, while sitting in traffic or at the mall)
Overall, you will learn why they are taking a particular action at a particular time, and be able to incorporate this insight into your global strategy and page-specific strategy for high-performing pages.
Website Wish List
Finally, you'll brainstorm a wish list of everything you and the client can think of to improve and increase the impact of the site (i.e. new modules, new design or navigation features, integrations, functionality, or additional pages).
"In a traditional website redesign, the site launch is where the project ends, but with GDD it's the beginning stage of an iterative improvement process."– Tom DiScipio [Tweet This]
This process starts with an 80 / 20 wish list, where you'll tease out 20% of the action that will inspire 80% of the impact.
You'll conduct a nice-to-have versus must-have analysis, and move items off the list that can be phased in during the second or third monthly sprint cycle. Through this whittling-down process, you'll arrive at your website'score purpose—what your site is and what it is not.
The next step involves the standard work you do with a traditional web design:
Designing the content and messages
Information architecture
Wireframing and design
Programming and development
Simple UX testing
You'll still be setting up data collection ideas during the wireframing process and checking the data to ensure you're going in the right direction. Finally, you'll move to launch the site quickly to get the site live so you can begin collecting the user data that will inform the next step in the iterative GDD process. Ideally, this entire phase one process should takeone month to complete.
Rounding out the phase-one process, ideas that didn't make the first cut can be sorted into the following buckets:
Opportunities to Boost Conversion: This includes content conversion opportunities, conversion points, user-paths and flows, value propositions on the site, split testing, and A/B testing.
User Experience Improvements: There may be some overlap with conversion-boosting opportunities, but this list could include UX ideas for improved navigation and a better tagging system. It might also include better search, suggestion or filtering functionality, and the placement of user interface buttons (where they are and how they're laid out on the site), and how the mobile user UX experience is impacted.
User-Based Personalizations: As marketers, we've learned the pitfalls of sending mass emails from bulk email lists. Now, we segment our lists to send different messages to different groups. Unfortunately, this strategy hasn't been fully adopted with our websites. For customers using Hubspot, the Smart Content functionality is personalized to each user. Most marketers think Smart Content is an awesome feature, but lack a system for implementing it with clients. GDD provides that opportunity, offering a system you can study weekly or monthly on an ongoing basis so you can update your wish list and adapt your site based on user personalization, user demonstrated interest, or previous actions taken by users.
Marketing Assets to Build: Just as businesses have assets such as machines or software technology, your website is your most important marketing asset. Your blog and social accounts are additional assets you can use to increase traffic and win more lead conversions from your site. Tools such as Hubspot's Marketing Grader, offers a great value to the end-user who receives a detailed report, as well as Hubspot, who receives links, and increased traffic and lead flow. This is the type of marketing asset you should try to create for your customers. Marketing resources, such as the section of MOZ's website dedicated to Google algorithm changes, is another great example. This has great value to customers and builds tremendous SEO value for MOZ.
Next, you'll create Action Item Hypothesis Statements for each action item you're testing. Here's an example from Hubspot's Luke Summerfield, with Marketing Mary serving as your persona: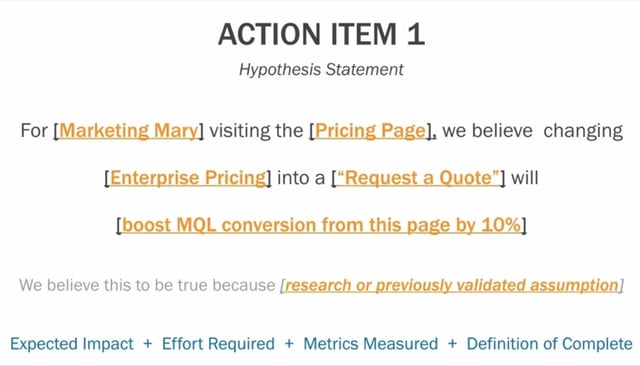 You'll use these hypothesis action items to gather critical metrics for the success of your GDD site redesign. The "we believe this is true" section could be informed by UX data, previous experiments conducted on the site, research, other previously-validated assumptions, and feedback from your sales and marketing team. Don't forget the housekeeping items at the bottom which you'll use to build your overall success metric for that particular action— e.g., Expected Impact—and you'll also want to assign point values to each so you can prioritize for focus and impact.
Phase Two: Iterative Development and Ongoing Improvement
"Your website shouldn't be a set-and-forget activity. To achieve peak performance, continuously iterate & improve each month." – Luke Summerfield [Tweet this!]
Phase Two of GDD will focus on iterative development/ongoing improvement & validation including monthly sprint cycles for the next eleven months. This will require a fundamental shift in thinking from a traditional website redesign.
Your end-users — or visitors to your site — will become the focus of everything you do. You'll need discover how site updates will impact the user at every turn — what they might say or think about them — and may need to gather additional feedback from them to make this determination.
The iterative development / ongoing improvement & validation process requires four steps:
1. Plan
Here you'll figure out what will be accomplished during a particular monthly sprint cycle by comparing your site's current performance againstgoals for the site redesign.
Again, you may need to gather additional data or research, including consulting with your sales and marketing team. Perhaps a recent blog post addressed a particular pain point and resonated with your audience. It might have been shared liberally on social media, receiving many retweets.
You may then use this data to shift the messaging on your site to better reflect end-user interest and can use it to brainstorm and update your wish list—you may want to bring your clients into this process as well so they'll have a better understanding of the site's impact when completed.
It may also help you prioritize the most impactful items for your next monthly sprint cycle.
2. Develop
Next you'll create the tasks and deliverables required for your site based on user feedback working with the relevant departments at your organization—developers, marketers, etc.
You'll setup validation tracking codes on your site in order to measure your success metrics and you'll develop targeted marketing campaigns to drive traffic to the new pages and places you've just built on your site—this could be blog posts, email, social content with PPC, or a combination of all of these.
3. Learn
Here you'll ask yet again: What did we learn about the user?
You'll review the data from your experiments, e.g., split tests, which will help you to decide whether to validate or kill the assumptions you've made previously. You'll shift the content on your site accordingly, then publish your results and learnings to inform and educate new team members and for reference later to inform future monthly sprint cycles.
You can also provide this information as a deliverable with your clients who could use it to facilitate data-based and data-driven decision-making amongst senior leaders at their organization.
4. Transfer
Last, but not least, you'll share what you've learned with your marketing team. You'll create improvement recommendations, like the folks at Hubspot's Sidekick Growth Team did recently.
They used on-site experiments to test three triggers that inspire action on their homepage; namely, social proof, authority, and testimonials as a triggers. Social proof triggers won out by far, inspiring visitors to take the most action.
The Hubspot marketing team then used this information to embed social triggers into new landing pages and emails, iterating based on user feedback. (1)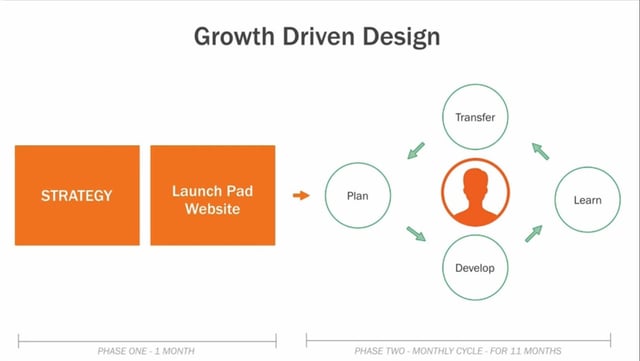 In this way, GDD's iterative process works hand in hand with strategies to help you achieve your desired outcomes and does so without shifting the focus of your marketing team unnecessarily.
How IMPACT Uses Growth-Driven Design
We use our own tweaked-up version of GDD to minimize risk, continuously learn and improve, and inform our marketing and sales efforts. We do the same for our customers.
We gather and process data from all the clients we've worked with over the years, gleaning best practices and integrating them into our site redesign planning process. This reduces the number of assumptions we need to make and creates a stronger jump-off point.
Again, leveraging this data, we've seamlessly integrated a number of tools and templates into our operating framework that allow us to build launch pad sites quickly and efficiently, reducing the cost of web design for our clients.
Are you facing the monumental challenges of a web redesign? I'll be happy to strategize with you about the ways Growth-Driven Design can improve your business outcomes. Schedule a call with IMPACT and mention that you want to talk to me.
Related Resources:
1. Summerfield, Luke. Rethinking Web Design Webinar (Accessed July 2, 2015).http://offers.hubspot.com/thank-you/growth-driven-design-agency
If you're like most marketers trying to keep your website fresh, you might be redesigning it every 2-3 years, spending $15,000 to $80,000 to launch, and suffering through months of agony. Trying to please all your internal stakeholders, addressing the needs of your buyer personas, writing and re-writing content, approving design revisions. Becoming distracted from core activities in your marketing plan, or worse, working extra hours to keep it all on track. Crossing your fingers, hoping the new website won't take your analytics or create more problems than it solves. Listen folks, it's 2015 and we're in Bergen County, New Jersey… your website design has to be amazing (for your visitors and for the financial health of your business.
There has to be a better way!
What if you could redesign your website gradually, over time? What if you could focus on the areas of your website that actually drive results — more visits, leads, and customers? What if you could present hard evidence to your stakeholders that design A works better than design B, despite their bias for B+C+D? Enter the world of Growth Driven Design, or GDD. In this world, you are making constant improvements to your site, with the help of web and marketing experts that use data to make decisions. You can finally say goodbye to bloated website redesign projects.
What is Growth Driven Design?
Growth Driven Design, or GDD, is the practice of constantly improving and evolving your website — its design, conversion funnels, content, and structure. Changes are guided by either a hypothesis or hard data, such as your web analytics, user testing results, split testing, heat maps, or buyer personas. GDD keeps your website fresh and current, optimized for lead generation, and relevant to your buyers and customers. By investing in monthly website improvements instead of a website redesign project every two years, you will realize steady gains in your website's performance and an overall greater return on investment.
What you can do with Growth Driven Design:
Design a new homepage banner — and test its effectiveness compared to the old one.

Run a usability test to get feedback from your users or an anonymous panel.

Move the location of key Call to Action (CTA) buttons, navigation menus, or other content based on the results of heat map analysis.

Steadily add or edit content using personalization tactics, such as targeting a visitor's buyer persona, industry, or product interest.

Simplify or reorganize the structure of your navigation menus.

Run tests to optimize conversion rates on your landing pages, blog, or CTAs.
Why Growth Driven Design Is the Best Alternative to Traditional Website Redesigns
Avoiding the extended wait, investment and agony of launching a redesigned website is probably the foremost benefit of growth driven design, but there is a host of others:
Stay ahead of the curve. Most of your competitors aren't optimizing their website every month. Gain an edge with GDD and you'll always be one step ahead of competitors.

Save money, time, and headache. Updating your site in small iterations will make a faster impact and require less of your time and attention.

More affordable, steady and predictable costs — paying a small amount each month rather than a large project fee provides easier budgeting.

Delight your users. Have your website redesign projects suffered from "design by committee", where everyone in the company needs their say in how the website looks? With this approach, nobody wins. Let your users, and the data, guide your website redesign needs, and everybody wins.
Is Growth Driven Design Right For You?
You might say, "My business is different. This GDD thing won't work for me." Or, "How do I convince the rest of my team this is what we need?"
We should chat…